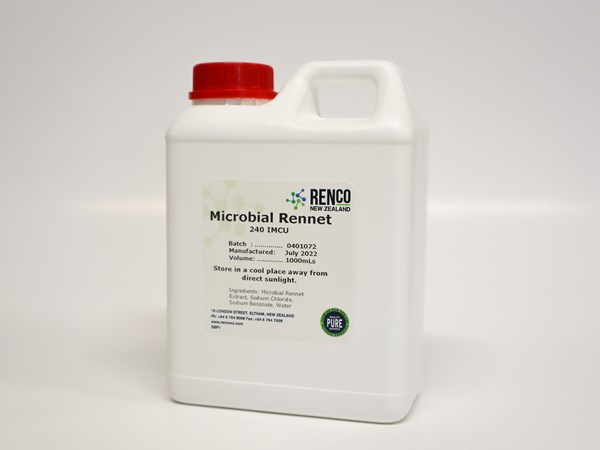 Renco Natural Microbial Rennet Vegetable Base 1 Litre
Microbial Rennet - Vegetable Base (Safe for Vegetarians and Vegans)
Renco Microbial Rennet is a purified and standardised solution of milk clotting enzymes prepared by fermentation processes using the fungus Rhizomucor Miehei.
Safe for vegetarians and vegans

International certifications

Store chilled

Free from deodorants and reodorants
How to use: 
For manual addition to cheese vats, it is recommended that the measured amount of rennet be diluted with 15 to 20 times its own volume of clean cold water prior to addition. For automatic addition, multiple injection points are recommended. In addition, the rennet volume should be followed by at least 5 volumes of clean water to clear the lines. Diluting water must be free of all residual chlorine. Normally, use rates are between 0.75 and 1.25 litres per 10,000 litres of milk.